About
We're all about you!
A Bridal Veil and Accessory shop for bespoke luxe one-of-a-kind wedding veils, headpieces, headbands, floral crowns, belts, garter sets, and refashioned accessories recreated into a modern design from heirloom bridal gowns for you and your wedding party. We also carry a select line of jewelry - earrings, necklaces, bracelets, and jeweled hair accessories - headbands, combs, and barrettes. I love custom orders!
Since 2011, Marti & Company has helped 475+ Brides, Mom's, and grandmoms solve all kinds of wedding accessory questions. Here are the top 8 questions:
1). What accessories will enhance my wedding gown?
2). Where do I find accessories that have the potential to enhance not only my gown but also my presence at my wedding?
3). How do I help my Mom & Grandmom select their accessories for their wedding attire?
4). I'm so unsure and have no idea where to start with accessorizing my gown. How can you help?
5).  What do my bridesmaids need to feel beautiful standing next to me on my wedding day? They have a wide range of fashion styles that they like and feel comfortable in. What accessories will work for them?
6).  What style of jewelry goes with the style of my wedding gown? Can I mix metals?
7). What if I don't normally wear a lot of jewelry?
8). And lastly, we're often asked what brings beauty to your wedding day? After your gown is selected we feel it's your accessories that make your wedding day unique.
I have answered these questions and more for Brides, Moms, and Bridal Parties. And when you come into the shop with your questions I can answer them too. The Bridal Shop at Marti & Company is a modern design outfitted with a 3-way mirror and offers a personalized space to try veils and accessories on with your wedding gown. And we know that your wedding planning involves your family and friends so feel free to bring them too! Even the Groom!
Kind Words from Customers:
Customers have offered that Marti & Company has the best and most unique selection of veils, accessories, jewelry, and couture designs in our region.
Alex & Lindsay
"Marti, thanks again for all of your help with the jewelry. Everything turned out great and looked beautiful."
Amanda Creek
I love Marti and Co!
Kurt & Kari
"Thank you for the beautiful belt and jewels for our wedding. It was such a fun day to come and pick out with Mom and Kathy."
Brandykrl on Etsy 5 out of 5 stars
"Perfectly made, exactly as pictured and described. arrived quickly as well. Thank you"
Krystal on Etsy 5 out of 5 stars
"This item arrived in 3 business days. It was wrapped super cute, so if you buy this as a gift it already comes wrapped. The garters are a perfect size, they are comfortable and really well made."

Marti is awesome! She worked with me to create a custom 'house divided' garter for my sister. She sent me pictures of the item to make sure it was what I wanted and even made a few adjustments that I requested. The package was also shipped quickly and in a beautiful box with a super cute matching to/from tag. I love the garter and can't wait to give it to my sister for her wedding! Custom Order for Brooke - House Divided Garter Iowa Hawkeye Wisconsin Badger Football Garter
Great packaging! Beautiful clip. I can't wait to have this be part of my special day. It will be for one of my bridesmaids.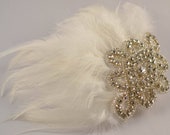 Feather Hair Clip / Wedding Fascinator for Bride / Great Gatsby Headpiece / Feather Headpiece 1920s/ Ready to Ship
Cecilia Lind on Etsy 5 out of 5 stars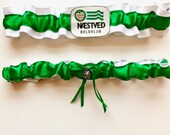 Wedding Garter Set, Custom order for Cecilia
Sami Moellers
 Couture wedding belt, jeweled comb 
Marti was absolutely fantastic to work with!  I got custom pieces & never felt rushed. I got the perfect pieces to complete my wedding day look!!! I cannot say enough good things about working with Marti. Thank you so much, Marti!
Allison Landt
jeweled hair comb, necklace, and couture garter set
It was so much fun and the displays were gorgeous! She was so easy to talk to and she instantly picked up on my wedding theme! Terrific experience!
Shannon Pecinosky
couture veil, jeweled hair comb & earrings
Such a cute shop, lots of fun vintage accessories. Marti is awesome & very talented.
Photo credit: nick@nickchillweddingphotography